I have completed my Post Diploma in plastic mold design. There I studied about plastic like mold, how many types of mold are present, how we manufacture plastics and many more. When I got a job as a technical executive in SOLIDWORKS you won't believe that SOLIDWORKS proved that it is one of the easiest, fastest and convenient software for designing.We can easily extract core and cavity, we can analysis plastics easily and many more. Now I will show you how it is useful in SOLIDWORKS. Before that, I would like to share briefly  about, mold, hand mold, and how it will be helpful for the designer to execute in  SOLIDWORKS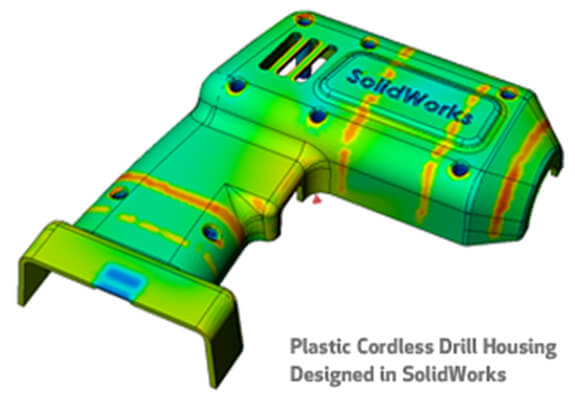 MOULD:-
Mould means a combination of two mold halves i.e. Core and Cavity…Core means it is the internal part of the mold and Cavity means it is the external part of the mold.
Let's Know about Hand Mould –
In injection moulding, hand molds are the simple mold which is used in less quantity. There is no supply of heat, cooling, or ejection. Heating plates are essential in every cycle time of hand mold to heat the molds and after every cycle time, we have to remove the mold to get the product. As a result, it enhances the cycle time, its limit is for short run and mold cost is low. Almost hand mold has a single cavity but we can make multi-cavity by making the mold small in construction. To make part simple it is usually of 2 plate mold or 3 plate mold. For short form of the mold it can be made from aluminium brass and for the requirement of more parts, then they are made from conventional steels.
SOLIDWORKS gives a great advantage with design and validation of parts and tools in one system. Designers can demonstrate that parts can be molded successfully, along with the checking for draft, thickness, and undercuts to ensure the correct geometry for molding.
Mould Design Capabilities in SOLIDWORKS Standard:-
Complete plastic part and advanced surfacing design tools
Geometry Import, Repair, and Healing tools
Draft Analysis, Undercut Analysis, and Thickness Analysis tools
Parting line tools
Parting surface tools
Automated "fill surface" capability for easy shutoff surface creation
Core and cavity splitting tools
SOLIDWORKS 3D mold bases available online and directly from major mold suppliers
SOLIDWORKS configurations to create customizable configurations of molds and mold components
Compare Part tools to visually see in 3D what geometry was added or removed when design changes occur
Production quality mold drawing creation tools
Seamless integrations with several industries leading CAM products allowing NC tool paths to automatically update with part design and tooling changes.